July 1, 2019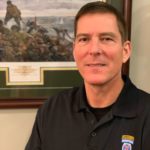 It is my distinct honor and privilege to be elected as the 10th Mountain Division National President. I would like to address a few items to provide you all a better understanding of what I believe is important for sustainment/advancement of our Association.
First and foremost, we must grow our Association Membership and Demonstrate the value our association will bring to our membership. Continuing our good deeds of supporting Soldiers, Families, and Veterans such as scholarships, helping our wounded, and honoring the service of 10th Mountain Soldiers is directly proportional to our membership. We must Evolve the organizing principles and leadership of the Association and its Chapters to accommodate current and future members. Membership must be a mission for every current member and we must use every means available to achieve the highest level of Association awareness. Soliciting ideas will be paramount. We must work together and ensure every voice is heard and we advantage our Association in any way possible in support of our Mountain Warriors and families. Our future and strength depend on membership of Veterans from the Modern 10th (Light), particularly those Veterans of the Wars in Afghanistan and Iraq. We will analyze the best approach to develop and exploit social media platforms, ensuring we are maintaining current state of technology enabling us to remain connected to the Warriors both past and present. We must continue to sustain our relationship with our affiliates, the Descendants and The Foundation. We must develop and sustain unity under one patch. We must remain integrated and engaged with the International Federation of Mountain Soldiers to assist in preserving the memory and honor of those Mountain Warriors killed in Combat and to preserve the spirit of comradery particular to Mountain troops.
Lastly, the Association exists to preserve and enhance the legacy of the 10th Mountain Division for future generations. Experience has shown that members of military communities are more effective when they understand and take pride in military traditions. By making our Mountain Warriors feel that they are part of an organization, they can draw strength from the individuals who served before them. This is why we exist, and this is why we must endure!
Climb to Glory!
Jim Redmore
10th Mountain Division
National Association President